Attention Viewers! The new Ohio Diner web pages are now available. Go to:
http://www.nydiners.com/ohio/ohiomain.html
Also check out Steve Harwin's Ohio diner website. http://www.oh-diners.com
Adams
Allen
Ashland
Ashtabula
Athens
Auglaize
Belmont
Brown
Butler
Carroll
Champaign
Clark
Clermont
Clinton
Columbiana
Coshocton
Crawford
Cuyahoga
Darke
Defiance
Delaware
Erie
Fairfield
Fayette
Franklin
Fulton
Gallia
Geauga
Greene
Guernsey
Hamilton
Hancock
Hardin
Harrison
Henry
Highland
Hocking
Holmes
Huron
Jackson
Jefferson
Knox
Lake
Lawrence
Licking
Logan
Lorain
Lucas
Madison
Mahoning
Marion
Medina
Meigs
Mercer
Miami
Monroe
Montgomery
Morgan
Morrow
Muskingum
Noble
Ottawa
Paulding
Perry
Pickaway
Pike
Portage
Preble
Putnam
Richland
Ross
Sandusky
Scioto
Seneca
Shelby
Stark
Summit
Trumbull
Tuscarawas
Union
Van Wert
Vinton
Warren
Washington
Wayne
Williams
Wood
Wyandot
nydiners.com takes no responsibility for the accuracy of any information on this page. Nor do we claim to have copyright on every image on these pages. This page is ONLY for reference purposes and should not be copied.
Allen Co.

"The Kewpie" in Lima,Ohio; enlarged now and still in business.
---
Ashland Co

Ashland - There was Sherrick's Diner that was in being mid thirties to late forties and was located in downtown Ashland between Center St. and Claremont Ave. On South St. Actually, it was just off Claremont on an alley that ran across. And the diner is still there and has been turned into a video store. (Another person) "the Diner" in Ashland, it was

on the corner of Claremont and South street right behind Bill Fulmer Gulf station. The first owner I remember was I think John Sherrik who also owned the Cottge resturant on lower Main st by Monkey Wards (Another person) There is an a diner in Ashland ,Ohio that is not used as a diner now .It was a very popular place as it was a 24 hour diner in the 50's. It is now painted a bright orange . It is on South Street.

it was called "Peg's Diner", and was run by a lady named Peggy- but don't remember her last name.
I worked on the corner of Claremont and South St at Fulmer's Gulf, and he had a full-service gas station and-U-Haul rental service. Peg's diner was tucked in behind the station.
[August 2002 picture of the diner. The owner wanted to tear it up, but the current renters, a Harley Davidson dealership, wanted to fix it up and give it a go!]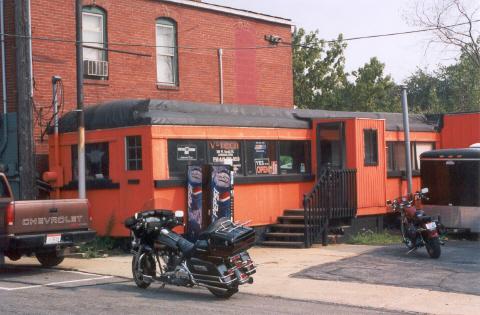 ---

Ashtabula Co -

There is a little diner in Conneaut near the library.

I remember the Ashtabula Dinor on Main Street - and did eat there once
or twice. I think it was Main Ave dinor for awhile - at the end it was
Mallory's Dinor. That's about all I can tell you about it. It is long
gone.
There was Dunk's Dinor the other side of the Nickle Plate RR tracks
on Main St. Mallory's was on no side of tracks and Dunk's on the so
side.
Long before that there was Joe's Dinor on Center Street and there
was one on Rte 20 East of Ashtabula, just a tad east of State Rd, and I
ate there maybe once, but can't bring the name of it to mind, maybe
Lou's Dinor.. I'll ask my sister. Seems like brothers had that one, it
was there during my school years, 1947 grad. We had Paul & Millies'
Dinor on Rte 20 west in Saybrook Twp. Great place for burgers. I
believe Millie's daughter is still alive and living in Ashtabula.
There was another dinor on Center St years after Joe's Dinor. Again
the name escapes me. And I know from nothing about the company that may
have made these dinors.
There was one on Rte 20 far east of Ashtabula - Paul (Gilletly?)
owned or operated it - it may have been part dinor and part building.
Long gone too.
Nearby Conneaut, OH had several dinors. The Silver Dinor is still
downtown, again, part dinor part bldg.
[ August 2002 This still exists, but has been muddled and added on to]
There were two dinors west of
town on Rte 20, and another right in Conneaut, on So Side of Rte 20,
this one may have been part bldg part dinor, they called it Nickle Plate
dinor.

[another person]
I remember a diner on West Prospect which I think closed in the early
1970's I think it was called the Tip Top Diner. There was also one on
Center Street called the Center Diner

There was a diner in Andover Ohio that I used to go to with my family as a child in the
late 40's. It was called Shephard's Diner and was owned by Branton and Helen Shephard.

---

Belmont Co.

diner in Martins Ferry, Ohio in the 1940's made out of 3 boxcars. Bought in Wheeling, WVA & moved by the Wheeling Pittsburgh Steel Plant. It was called Balk's Diner
---
Cincinnatti -
A diner on Spring Grove Avenue in Cincinnati. My guess is that it would have been in about the 2500 block.


One at the corner of Queen City and Beekman and thinks it was the original Toddle House.


There was another on River Road that just closed last year.

---
Dayton -

Beavercreek, OH located on the map between Dayton and Xenia on Rt. 35, we have a diner buried now under newer construction. 25 years ago you could still see the original configuration of the car but not now.
In the late 1955/1956 there was a diner on Route 4 almost at the city limits of

Fairborn, OH going towards Springfield, OH. I don't want to say north or south
as I might get that mixed up. Can't remember the name. Not far from
Wright-Patterson Air Force base.
---
Columbus -

I can't offer you much detail, but many years ago -- probably 12-15 years

ago-- a couple of railroad cars were put up at a siding
next to a lumber yard and served very nice dinners in old dining cars.
It was in Linworth, OH, which is right next to Worthington. It was next to the Linworth Lumber Company.
---
Cleveland (Cuyahoga Co.)-

The diner on w. 177th was run by the Zappone's and was called Z's. Dennis Kucinuch, a government official, frequented it often. Removed and moved out to Port Huron where it still awaits it's fate.
In Cleveland Ohio one sat at the north east corner of E55th and Euclid in the early 1940's I believe it may have been a converted streetcar. It was on a streetcar line.
I believe there was a Dorsels diner on the corner of 75th & Euclid Avenue in Cleveland when I was a child in the 50's. My husband and I drove past there not long ago and I think there was a building that could have been the frameof the old diner. I remember the lower half of the building being all silver in color and shiny. The diner was on the north side of Euclid, which runs east and west. I am also not exactly sure of the address on Euclid, but I would say that it could be anywhere from 71st Street to 76th Street & Euclid.

... East 71st Street and Euclid Avenue from 1942 to ... a history. The American Diner Company was a local ... Cleveland res- tauranteur Kenny King joined the company ...
www.oh-diners.com/divers/news/wrhs.htm - 5k - Cached - Similar pages

of Annabelle's Diner in Mentor, Ohio. It was formerly located on Euclid Avenue at E. 204th St, in Euclid, Ohio. It was originally a Kenny King's restaurant ...
members.stratos.net/fieromike/AnnabellesDiner.htm - 4k - Cached - Similar pages
---
Toledo -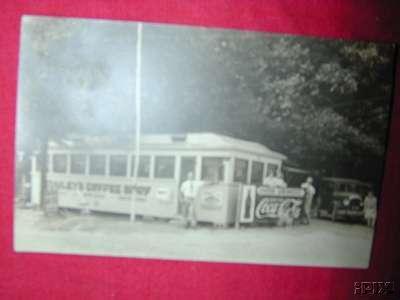 Bailey's unknown location around Toledo.
Postmarked 1931. supposedly on Rt 20, 40 miles west of toledo
---
Carroll Co.
There is a diner in Malvern Ohio near Canton
---
Columbiana Co.

The Morning Journal, Lisbon, Ohio, Sunday, January 11, 1997: an excerpt-
Salem's Last Diner Opened in 1955 by Dale Shaffer
On June 13, 1955 Jim and Mary Aldom held the grand opening of their new
Salem Diner, a beautiful $80,000 show-piece. It took place on their 17th
anniversary..........It also was the last one made by the Jerry O'Mahoney
Co. of Bayonne, N.J., and was shipped here on two railroad flat cars.
Salem's third and last diner owned by the Aldoms, was sold to Charles
Forsythe in 1975 and became Forsythe's Diner. Four years later it was sold
to Shirley Davis and moved to E. Lincoln Way in Lisbon, where it still
operates as the Steel Trolley Diner...........
Crosser's Diner, Lisbon, Ohio is closed and a rumor says it will be moved to Wellsville.
John Howard "Wimpy" Crosser and wife Lorena A. Arter abt 1944.
My husband says, Jimmy Hanna started the service station and diner. He
moved to the west for his health.
Howard Crosser ran the gas station and his wife the diner. I think it was
sold in 1974.
One in Columbiana
Aldom's looked like a sleek railroad car. It was on State Street for many
years. If you don't know about it, you want to talk to Salem's historian,
Dale Schaeffer. I don't have his address or phone; try for info from the
Salem News or the Farm and Dairy (a weekly).
Elite Diner in East Liverpool.
---
Erie Co.

Sandusky - in Sandusky, Ohio at the corner of Central and Monroe Streets.
Berardi's in Sandusky, Ohio---still being used. on Perkins Ave, between Hayes Ave, and Camp St. [august 2002 gutted completely. Pic below as World's largest diner]
Now Jolly Donuts on Milan Rd, just SW of the corner of Perkins Ave. [August 2002 This diner was made by Mountain View very nice interior, brick exterior. pic below on left]

used to have at least 2 others. One was located on East Washington Row and was
torn down (or moved) many years ago. The other was located at the NE
corner of Warren St & Huron Ave. It was torn down about 4-5 years ago
to build a CVS (ugh!).


| | |
| --- | --- |
| This inside of a diner picture is Miranda's on Rt 250 in Sandusky. This is still standing today, Bricked over on the outside, and known as Jolly Donut. | |
| This diner has been completely gutted out. It now serves as the VERY popular Bernardi's Restaurant. | This diner was demolished about 1998. In its place is some drug store, yawn. |
---
Hancock Co.
Findlay Note : Cherry and Center are parallel to eachother, one block away from eachother. Thusly, below is probably the same diner.
Findlay - It was on North Main Street where Cherry Street ended. The lot now contains a War Memorial

Findlay - There was a diner in Findlay at the intersection of Main and Center St


---
Huron Co.

Wakeman - I remember a small diner that was on Route 20 West of Elyria as I used to live down the road from it. It was on the curve out of Wakeman. This was the 1940's. (Another person) It was bought for scrap, turned out it was 90% copper. this happened in 1972?
A diner once stood aprx 3 miles west of Wakeman as I recall
Milan - Dave's Park-Avery Store in Milan, Ohio---still being used.
---
Lake Co.
I don't know if this will help you or not, but I remember a railroad type dining car in Painesville, Ohio.
I ate in the car between the years 1936 and 1940. It was located on State Street between Main and (I believe) Washington Streets.
I do not remember when it was removed, but I do recall that later at least starting around 1946 there was a new diner built there and called "Dietzen's (spelling) Diner.
Some diner called The Sideliner Diner. It is at 1470 Mentor Avenue,
Painesville, OH 44077 Phone 440-352-2423. this might or might not be a real diner
---
Logan Co.

There was also "The Spot" in Bellefontaine, Ohio at one time, now gone, same owner as the one in Sidney.
---
Lorain Co.

Ridgeville - There was a Diner on Center Ridge Rd
Elyria - Used to be a great little diner at 110 East Ave in Elyria , last known name was the Blue & White Diner, Before that it was Marion's Diner, it was Marion's as early as 1952.
Was the diner out side Oberlin converted? About 3 miles west of 58 on rt.20. I dont know positive, that was a streetcar covered over, but thats what I remember.
Elyria - I think HAZEL'S on Cleveland St. is still in Elyria.
Elyria - think I remember one on East Broad St. in Elyria, OH
Wellington - The diner is still there. Cecil's Trackside Diner. It was moved to town in 1927. There was also a diner 2 and a half miles east of town at a gas station. Around 1929. All that is known about this one at the gas station is that the newspaper said it was expected shortly.



Shortly, look for the Cecil's Trackside Diner webpage. Now online!

---
Mahoning Co

There was a diner on the corner of Commerce and Wick Avenue in
Youngstown. [different person] It was there during World War II
and continued in business probably until the 70's. It then was dismantled
When I was there last summer, they were building a court house (I think) on
the site.

Lisbon & North Lima, Ohio - I know there are old diners in those two towns.
(Note: Lisbon is in Columbiana Co., and that is confirmed)
---
Marion Co.

Marion - bus shaped restaurant in Marion. It was right down the street from the Marion courthouse and across the street from the old floor factory.
---
Medina Co.

Wadsworth - Diner at the square in Wadsworth, Ohio. located on or near the sight of the present library (Another person) There was a restaurant called "The Diner" in Wadsworth, Medina County, Ohio when I lived there in the 1950's and early 1960's. I don't know if it is still there, or if it was, in fact, a converted railroad car. As I remember, though, the front of the building was long and narrow, situated parallel to the street, and there was an addition added perpendicularly to the left side of the back
Medina - Also in Medina there is an old diner now converted...sort of...into a mexican restuarant called Cancun's...but the front part still has the counter and a couple booths... Null's diner one block north of the square.
Medina - EBAY Matchbook - Buckeye Diner

---

Ottawa Co.

LAKESIDE,OHIO. ABOUT A BLOCK EAST OF THE LAKESIDE HIGH SCHOOL,1953--1954 WAS A DINER CAR.IT IS NOW LONG GONE
---
Pike Co.
Waverly - matchbook for Andy's Diner in Waverly, OH

---
Portage Co. (Kent)

When I was at Kent State, we once ate at a diner there -- cannot recall the street, but it was within walking distance of the dorms (Summer 1963)
Ther use to be a silver diner in Kent,Ohio. It looked like it was from the 50's. It is not in operation now but was for a long time.

There's a diner at the heart of Kent -- and when I was there last year, it was still going strong.
Jerry's Diner is (was) on the corner of Water and Erie Streets downtown. There was a fire a few years ago and is not currently in use. The "silver diner" was on the corner of Erie and Depeyster Streets as I recall. I think it has been converted to business office use.
there had been another diner on Main Street between Water and Depeyster Streets.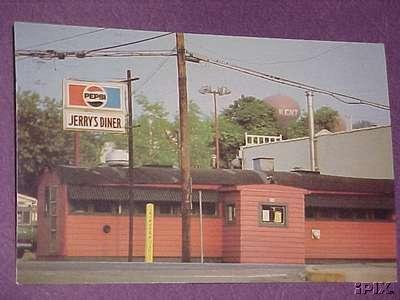 There was an old Richardson Dining Car in Ravenna
---
Richland Co.

Mansfield - There was a Diner on Park Avenue West, west of the square about 3 or 4 blocks on the North side of the street (Another person) there was a diner behind the old Penny's store which was on Park Ave West in Mansfield a block from Main. The diner was called Max's

Update- One of Max's Diner in Mansfield was NOT an authentic diner the other was!

---

Ross Co.

The Chillicothe diner, Carl's Townhouse, will open in about two weeks if on

schedule, so I guess that should be by the second week in June, in that time
frame. I'm not knowledgeable enuf to know if it meets the criteria for
"diner" or not. It's white like a White Castle building, sort of resembles
that.
---
Scioto Co.

vaguely remember a diner in New Boston, Ohio(Scioto County) on Gallia Street. This would be in the 1940's. There is a restaurant on Rhodes Avenue in New Boston called Hickies and their walls are covered with old photographs and I saw a photograph of the old diner.
---
Shelby Co

I'm not sure of the definition of a "diner", but I think "The Spot" in Sidney, Ohio was one.

---
Stark Co.

Bob's diner S.E. corner of 6 and market north,in Canton.
Bills diner, moved to another location in Canton, about 1975 to 80,
also another Bills diner sat in down town Massillon Oh.
Alliance - there was a diner in Alliance, Ohio in the Mt. Union area in the forties or so
There were 2 diners in Massillon (just west of Canton) in the 60's and 70's. Both are gone now. One of them was "Bill's Diner" which sat right downtown on LincolnWay (old rt. 30 - currently rt. 172) between Sears & an alley. Both the diner & Sears are gone now, replaced by a parking lot for Massillon's City Center Shopping Center.
The other diner in Massillon was known as "Smitty's Diner" which was almost across the street from Bill's. (There currently is a McDonald's right about where Smitty's sat). Smitty's was sold probably in the late 70's or so and the name changed to "Milly's Diner".


---
Sandusky Co. (Fremont and Clyde)
Clyde - Bogey's Diner on the south side of the road - rte 20. [This is an interesting diner, it looks like an old gas station building turned into a diner, but it was not an old gas station. been there 50 years]
Fremont - Whitey's, the one in Fremont, does close early
---

Seneca Co.

Tiffin - There used to be a dining car in use in Tiffin, Ohio on S. Washington St. It was in use from the thirty's to sometime in the fifty's or sixty's Torn down to make way for a bank. Also used as a drive-thru in the forty's. The diner was located on N. Washington St. kitty corner from the Ritz theatre and The Tiffin theater , both run by the Schine theater group.
---
Summit Co.
I could see one abandoned at the top of a hill on the South side of the toll highway. I think it had started out as a RR dining car (someone told me) [Note: I found out this is in Hudson]
It was located near the line between Barberton and Akron. The street on Akron side is Kenmore Blvd, Barberton side is Wooster Road. The streetcar line (tells you how long ago that was!) turned around to head back into Akron there. The diner, if I remember correctly, was open 24 hrs a day and since it was near the end of the line, catered to many of the factory workers heading home from swing and night shifts.

---
Trumbull Co.
There is a diner named The Emerald Diner in Hubbard. (This was recently brought in from another state)
There was at one time a diner in Warren, Ohio. It was located on East Market
Street if I remember correctly. It was probably there from the 30's maybe to
the very early 50's.
---

Wayne Co. (Wooster)

Rittman - Ohio Ave. Almost across from the police station
Rittman - Punch & Judy's Diner
Orrville - I think there was another at Orrville
Wooster - Wooster had a little diner for years. It was on the main street called Liberty St. I knew it as the "Reed's Diner" 1980's when it was torn down. It was located where Ned Adams Chrysler delearship is now. at the foot of Beall Ave and Liberty St.
Wooster - The first one I can remember was on the corner of Liberty and Bever, cattycorner from the old store
Wooster - I remember another trolley diner in Wooster at the intersection of S. Spruce Street and Grosjean Road, across from the old Gold Star Feed Mill. This was a busy little indusrial area at the time. It sat near the north bank of the creek, and I think it was washed away in a flood in 1969.
Wooster - It was between O,Neils furniture store and the barber shop which was only 2 doors

from the old grocery store run by a mr Mcsweenry. This car was the first resturants owned by the Burnetts before they moved across the street into the place beside the dry cleaners. Then they bought Bishop's drive in. Their family might be able to give the guy some info as the son i played with still runs his place between Seville and Medina named Michaels i believe.


---
Williams Co.

Bryan - The dining car, operated from 1924 to 1955 by, in succession, Charles Yonk, Charles Johnson, Gerald Allison, Lowe Brothers, Charles and Hazel Stevens, Caromon Whitney and Herbert Salzman.
Bryan - Lester's mentioned by MANY people!
---
Wood Co.
Bowling Green - There used to be a diner in Bowling Green, Ohio that sat next to the Kroger Store. The BeeGee diner has been gone for a long time--probably 30 years or more.