Contents

General History
Manfacturer?
Pictures
Newspaper
Articles
Personal
Recollections
The Mystery
Dining Car

Address
105 Depot St.
Wellington, Oh
---
Phone
440-647-0334

Purpose of page
This page was started in order to celebrate the history of a very old and worthy dining car (diner). I, Michael Engle have assembled this page to help people realize the importance of this diner culturally and archetecturally.

How to Contribute
To contribute a personal memory or make any other comments about this page, please email:
speigletown #
hotmail.com
You can also send mail to me at:
182 Speigletown Rd
Troy, NY 12182


Links

General History (Wellington) : The dining car(diner) came to town around the end of June in 1927. It is unknown where it came from, but since the Wellington newspaper states that it received a fresh coat of paint just a month after arriving in town, we can assume it was a used dining car. The first owner was Frank Andrews. Sometime around late 1929 Mr. Andrews sold it to Van Barbor. Mr Barbor ran the dining car for ????? years. Carl Ensign later took over the diner and renamed it Carl's Diner. Other names were Hazel's Diner and the Village Diner. Today it is called Cecil's Trackside Diner. The diner is owned by ??? and is leased out to Sandra Aden.

Manufacturer :

If you check out this link - Diner Manufacturers in the Great Lakes Region - you will see a list of manufacturers. Even though this diner came to town in June of 1927, evidence seems to support the dining car being a used diner. Meaning it came from another location, to Wellington. Thusly, its original age is in question. One person has told me they remember heaing 1921. With the all wood interior construction, I would say anywhere from 1924 to 1927 is a plausable answer. Recently, though, we have come across information that affirms that the diner was built by the Goodell Dining Car company. Which would place the date of the diner to, most likely, 1926-7.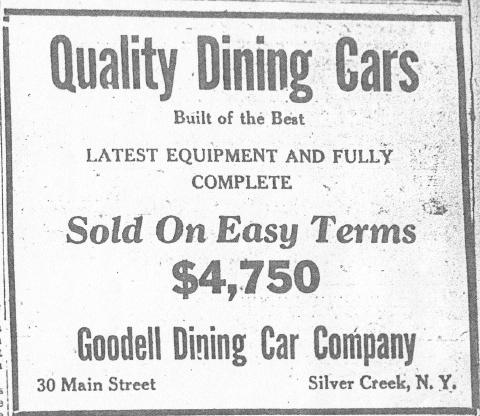 Pictures :
Here are some pictures of the inside of the diner. All are Winter 2001-2002. Copyright Mike Engle.

Here are some pictures of how the diner used to look. These were taken without permission.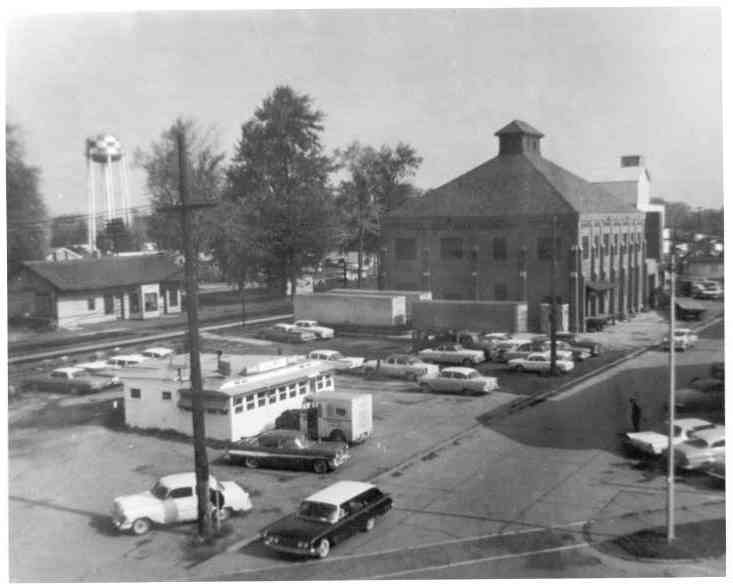 above picture is copyright by the Wellington Library. Picture is from 1962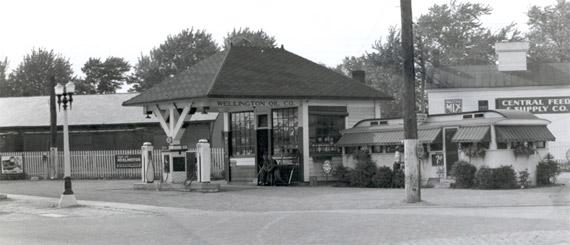 above picture was taken from www.wellingtonohio.net


above picture from Women's Society of Christian Service of Brighton, Ohio - Cookbook
Newspaper Articles : all articles are from the Wellington Enterprise, which was a semi weekly newspaper during the time of these articles.
June 23, 1927 - TALK DINING CAR AT GAS STATION
Word on the street is that a man who was until recently in business here plans to purchase and install one of the new fangled "dining cars" on the site of L.G. Bradstock's new West Main St. gas depot. The town has never lacked for restaurants and a "dining car" would make seven eating houses.
Lew Bradstock and Frank Andrews are mentioned as the proponents of the scheme. Such dining cars, costing nearly $5,000 are popular in many cities.
July 7, 1927 - Advertisement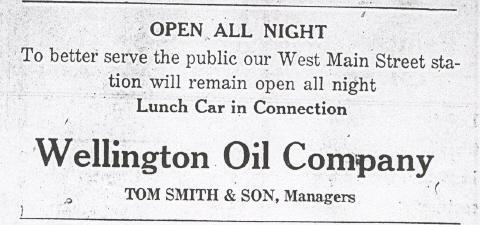 July 14, 1927 - Night Man at Diner - Perry Knapp is night man at the dining car which Frank Andrews operates. at the L.G. Bradstock filling station, West Main St. Frank is the day time cook.
July 18, 1927 - The dining car looks nice since it was freshly painted, had flower boxes added as exterior improvements and gaily stripped awning hung.
July 28, 1927 - Perry Knapp resigns and goes back to market. L.E. Predmore who works a night trick at a telegraph key, will cook from 12 midnight to 6am, adding new duties to his present one.
July 12, 1928 - Andrews buys back hotel, will continue to run dining car which he purchased after he sold hotel.
December 6, 1928 - W.F. Overturf has taken the place of Carl Ensign as night man at Andrews Dining Car.
April 14, 1930 - STICK-UP MEN GET $30 HERE - EMPTY REGISTER AT BARBOR DINING CAR; PAIR WORK IN SILENCE.
A lot can be accomplished in silence, so Rolland Herrick, night waiter of the Barbor Dining Car(Van & Bessie Barbor) on West Main St can testify. About 2:30 Thursday night, or rather Friday morning, two young fellows came into the car and ordered hamburg samwiches. Several people were in the car when the individuals in question arrived, but the last one, substitute night watchman, Webb Beavor, had left when the felllows put in their order.
Herrick put the sandwiches on the griddle to cook and turned around to serve water to the men to find one of them had him covered with a gun. The other fellow went to the cash register and took out around $30.00 and went to the parked car in front of the diner, while his companion kept Herrick covered. The men drove down Railroad St. and left Herrick bewildered. Not a word had been exchanged in the "gun annd money pantomine."
Herrick, son of Mr. and Mrs. Van Barbor, owners of the dining car, stated that the men were not hard looking characters - they were about twenty-five years of age and appeared to be ordinary young fellows. Herrick said he would be able to recognize them if he saw them. They were driving an old model Chevrolet roadster.
About three O'clock Wednesday morning, two young fellows, answering the same description, held up a lunch room in Vermilion, O., practically the same way and it is thought that there might be some connection in the two robberies.
Personal Recollections :
[To add a personal recollection, email speigletown@hotmail.com]

The MYSTERY Dining Car :
March 11, 1929 - DINING CAR COMING FOR CAMP GROUNDS
A modern dining car has been ordered and will be placed two and one half miles east of town on the lot of ex-Mayor Charles Ed Gott, where he owns and operates a filling station and camping grounds.
The station is fast growing in popularity with tourists and the addition of the car will make the camp complete. The car is expected this week.