Silver Creek Dining Car Co.
or
National Dining Car Co.
Introduction -It has been known for a good amount of time that Dr J.J. Sharp was making lunch wagons.
These four blurbs, so far, are the only thing known about this company. Everything here is being based upon the one short note that Sharp and Fitzpatrick were working together at one time. Therefore, it can not be guarenteed that when Sharp joined Fitzpatrick, that this was still the Silver Creek Dining Car Co., which was then reorganized into the National Dining Car Co. However, for the time being, the assumption will be made. Reading the first article, about the incorporation, it is stated that they will also run dining cars.

When they started with making lunch wagons, their wagons were of an unique design, as you can read below. It seems that their earlier lunch cars looked like Richardson lunch cars. But a big tell for Sharpe was that they had three windows to the right of the front door. I have not 100% verified this, but it would make sense for the company to make their wagons slightly different. Somewhere around 1927, they were building what were then called lunch cars by the newspapers. These cars were unique to the region because of their look. These cars were built with barrel roofs, similar to the ones made by O'Mahony and Tierney. You will also notice the photo below shows only one door to the right of the front door.
Lester Guenther has given me some information on the company. Two of the employees were Albert Baker and Erwin Guenther. Their diners were moved by Wheeler Motor Express. Also appearing in a picture was Bern Grimsey. Lester said that Dr. Sharpe would build one dining car a year. This was probably true later on as the lunch car craze started to wane a little.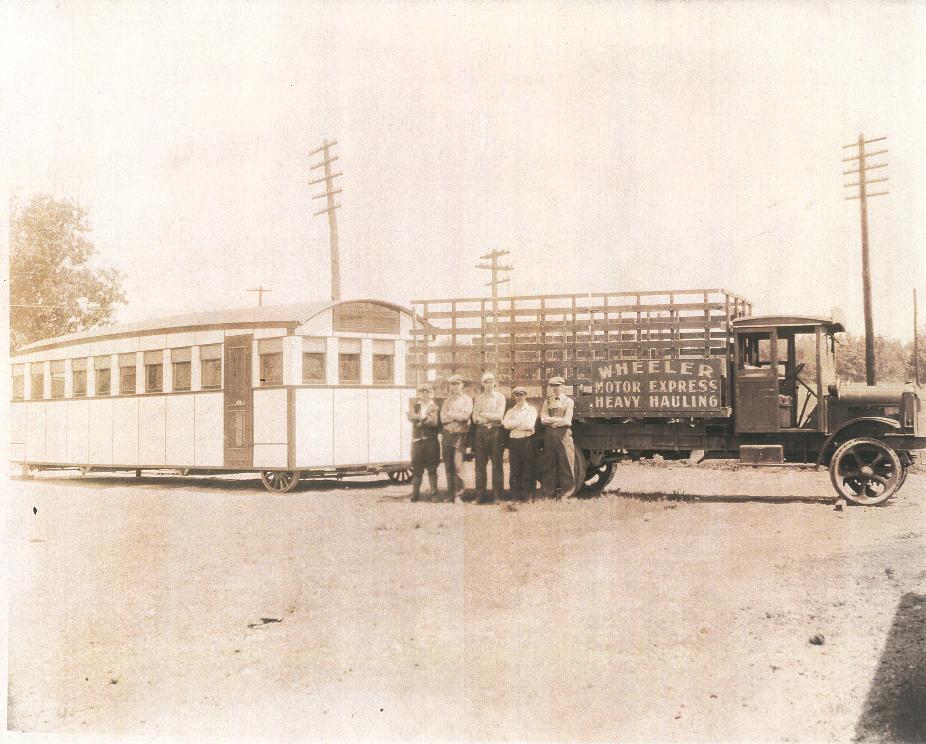 Photo courtesy Hanover History Center - Silver Creek, NY

Newspaper Articles -

Source: Silver Creek Gazette
Date: June 1, 1923

Silver Creek Dining Car Co.

Has been incorporated; capital stock $5,000. This company is organized under the laws of the State of New York, and will engage in the manufacture and operation of dining cars.

Pres., Dr L. D. Fitzpatrick
Vice Pres., Ernest Fox & G.E. Fowler
Sec.-Treas., R.P. Galloway



Source: Silver Creek Times
Date: May 7, 1925

S. S. Tanner, who has been with the Huntley Manufacturing Company for the past 20 years, has resigned his position and accepted a position with Sharp & Fitzpatrick, lunch car builders.



Source: Silver Creek Times
Date: July 9, 1925

Lunch Wagon for Woodlawn

Doctor Sharp is shipping this week to Woodlawn one of the lunch wagons which he has now been building for some time past. This wagon has a number of new features. The griddle and hot plates are of double capacity and there are two coffee percolators. A most ingenious arrangement is made for taking care of ice cream and ice water. A container for ice cream can is built into the wagon. the ice cream, of course, is packed by the ice cream manufacturer, with salt and ice. The melting of the ice in contact with salt makes a very low temperature, which usually goes promptly to waste. In the Sharp lunch wagon this waste is carried off through a coil of pipe in such a way as to give plenty of ice water without additional expense and it also cools a large compartment used for storage of bottled soft drinks. The water is drawn through a spigot which is turned on by a push of the glass to be filled.
The finish is exceptionally good, being mostly in veneered mahogany panels. By an ingenious arrangement, the transoms for ventilation swing in the middle, giving maximum ventilation and easy operation. the sash move up and down as in house sash. There is a large storage capacity and a closed compartment for cigars and cigarettes where the main stock is kept. Only a few at a time, for immediate sale, are exposed to view.
There is a good sized refrigerator, a steam table and all the usual equipment for dishwashing, etc. Altogether, the Doctor has now shipped six wagons, adding considerably to the local circulation of funds and helping local business.



Source: Silver Creek News
Date: November 25, 1926

National Dining Car Co. enlarges their Plant

The 'National' Dining Car Co., of Silver Creek, of which Dr J J Sharpe is the head, is enlarging their plant on Main Street to double its present size. The sale of cars is steadily increasing and the company found it necessary to enlarge their plant to meet the demand.
The company had made no special effort in the sales end of the business, being satisfied to supply the demand as it came to them, but orders have increased so materially that more commodious quarters were found to be necessity.

Source: Silver Creek Times
Date: April 28, 1927

New Lunch Car In Town

Miss Florence Clute's new lunch car, purchased from Doctor Sharp, is open and doing business -- a lot of business. Florence's pies and cooking have long been famous, and now she has a place of her own where she can show the public what's what in the gastronomic line. The new lunch car has a fine location on the Moose lot on Central Avenue, and it promises to develop promptly into a fine business. Certainly Miss Clute's many friends and patrons wish her all success in her venture. Tourists who stop here and get a sample of the kind of cooking which is dispensed from this lunch wagon are likely to remember Silver Creek long and favorably.


Source: Silver Creek Times
Date: April 28, 1927

Silver Creek's Largest And Most Elaborate Dining Car

The National Dining Car Company of Silver Creek has under construction a special car to meet the requiements of Mr. Henry Smith, a former resident of Silver Creek, who has been operating a Dining Car in North Tonawanda for the last three and one-half years where he has worked up a very lucrative business.
Mr. Smith's car is to be of the general design as the NATIONAL'S stock car except as to size. The car will be 36 ft. long instead of 32 ft. There will be a small room in the end of the car for the dishwasher. The interior finish will be of Solid Mahogany and White Enamel.
Mr. Smith will have a very complete and elaborate line of equipment making his car one of the most modern DINING CARS of the day. The small Individual Tables in the end of the car will add much to the beauty and practical efficiency of the car.