The company was started by Albert Closson of Glens Falls, New York around 1904. This is when Mr. Closson patented his design of a lunch wagon. He built the wagons at his house at 16 Second Ave. in Glens Falls. Around 1912, the company was bought and moved to the Welch's plant in Westfield, New York, where big plans were devised for the company. An advertisement was placed in the Saturday Evening Times. Unfortunately not much else is known about the company other than 4 articles in the Westfield newspaper when they first moved to Westfield. It was said in a book about E. T. Welch, that the venture was short lived. In a 1917 city directory that covered Westfield, the Closson Lunch Wagon Co. was listed. The Westfield Republican reported, "The Closson Lunch Wagon Co. Inc. was judged a bankrupt by Hon. John R. Hazel on Sept 21, 1916." Unfortunately, no employees were specificly listed. The only other thing that is known is that Albert Closson was running a lunch wagon in Glens Falls in 1918.
For General Diner links, try


I will be posting a picture of a Closson Diner which no one knows anything about. It is my hope that someone will be able to find something out about this diner.

If there were a Closson made lunch wagon around, it would be an incredible find. From newspaper articles, it was said that the company received about 200 inquiries after an ad was placed in the Saturday Evening Post. Unfortunately it is difficult to say how many diners they built after this time. They were supposed to have moved into a permanent space in Westfield from the Welch's plant, but never seemed to. Their manager, Dr. E. L. Tiffany quit just after 2 months. About 4 years later, Albert Closson could be found in the city directory of Glens Falls, running a lunch wagon, leading one to believe the company went bust sometime before then. It is also not known how many people were helping Mr. Closson to build the lunch wagons while in Glens Falls.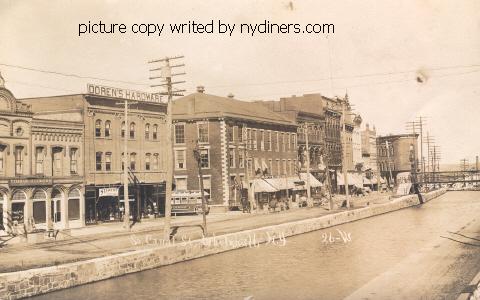 This is the Ivanho Lunch Wagon in a 1904 postmarked postcard, showing Whitehall, NY.
[If the below names are in light blue, then hold your mouse over that name for more information on that lunch wagon.]
Name

(All photos are copywrited)

Original Owner
City
Number
Pic?

Years in Service

Greeno's Lunch

George Greeno
Glens Falls, NY
1

Annie's Wagon

Bordentown, NJ
Adv

The Grand Isle

Art Dawson
Whitehall, NY
13
3

The Windsor

Aiken
Whitehall, NY
1
Watertown, NY
1

Marion's Lunch

Wallace Family
Glens Falls, NY
34
1
Schuylerville, NY
37
1

Ondawa Lunch

Louis Brownell
Glens Falls, NY
1

UWANTA Lunch

Bennett Family
Johnson City, NY
1int

Hallock's

Hallock Family
Ballston Spa, NY
2

Unknown name

Les Conar
Gloversville, NY
1

Dairy Lunch/Ladies & Gents

Gloversville, NY
1

Red Wing Lunch

Saratoga Springs, NY
21
2
Jamestown, NY
0

Crescent Lunch Room

Bill Allen(2nd owner)
Saratoga Springs, NY
1

Gilley's Lunch Cart

probable
Portsmouth, NH
1

Try-Me

Samuel Rivette Family
Glens Falls, NY
32
1

Crescent Lunch

Rivette (at one time)
Glens Falls, NY
10
1

Ted Forker Quick Lunch

Ted Forker(1926)
504 Perry St., Trenton, NJ
1
Auto Lunch
unknown
between Glens Falls
and Lake George
2
J.W. Kingan & Hugo Neff
Emporium, PA
0
St. Petersburg, FL
0
F.T. Boyles and F.C. Moyer
Meadville, PA
0
F.T. Boyles and F.C. Moyer
Meadville, PA
0
Indianapolis, IN
0
Erie, PA
0
NYC
0
NYC
0
NYC
0

Fountain Lunch Cart

Henry O. Fountain
Malone, NY
0
5/06

Closson Lunch Cart

Fred L. Ryon
Norwich, NY
0