The
Great Lakes
Dining Car



Continuing to tell the story of the lunch wagon and dining car business that prospered in the Great Lakes region.
With focus on the Great Lakes and neighboring states, and extra empathesis on Chautauqua County in New York.
---
[PAGE 2] Great Lakes Dining Car Wagoneer - 2002/3 [PAGE 2]
Focus on a Diner - 3
Cecil's Trackside Diner, Wellington, Oh
Focus on a Manufacturer - 4
Ward & Dickinson, Silver Creek, NY 1925
1925 N.Y. State Census - 5
In the News (Old) - 5
List of Manufacturers - 6
In the News (New) - 7
INTRODUCTION
My name is Michael Engle. As a volunteer with the American Diner Museum I have learned about documenting the history of diners. So, independently, I am researching the diners of the Great Lakes region to not only tell the stories, but save the history of these diners and the manufacturers. During the 1920's and into the 1930's there was a dining car craze in this area, especially Chautauqua Co. It even prompted one manufacturer to move to Dayton, Oh., in an attempt to introduce the dining car into Ohio and the Midwest. This booklet is my attempt to help save the history of the owners and manufacturers of dining cars.
---
[PAGE 3] For more information, visit www.nydiners.com [PAGE 3]
Focus on a diner - Cecil's Trackside Diner
Located in Wellington, Oh, Cecil's Trackside Diner has been an institution since 1927 when it came to town from an unknown location. Since that time, there have been some changes to the dining car, mostly to the outside appearance and having the grill moved from behind the counter to back in the kitchen. Fortunately, there are pictures of this diner during its different stages.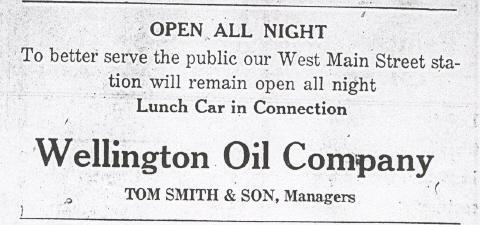 (1927 Newspaper Advertisement - The Wellington Enterprise)
The gas station mentioned above was owned by a L.G. Bradstock and the lunch car was owned by Frank Andrews. Perry Knapp became the first night man at the diner and shortly after Perry was hired, the diner was given a fresh coat of paint. This is an obvious clue to the diner being used.
Two weeks after being hired, Perry Knapp resigned and L.E. Predmore was hired. Somewhere along the line, Carl Ensign took over the night shift and in Dec. 1928, W.F. Overturf took the job. Frank Andrews, in 1928, bought back the hotel he previously ran before operating the lunch car, By 1930, the lunch car was owned by Van Barbor, when it was robbed during the night while Rolland Herrick was the night man.
Later on, when the picture below was taken, Carl Ensign owned the diner. The current owner is very interested in preserving the history of the place, and it doesn't hurt when she has a whole bunch of loyal customers.



(Women's Society of Christian Service of Brighton, Ohio - Cookbook)
---
[PAGE 4] Great Lakes Dining Car Wagoneer - 2002 [PAGE 4]
Focus on a Manufacturer - Ward & Dickinson Dining Car Co.
In mid 1924, Lee F. Dickinson and Charles Ward got together to build a lunch wagon in the open air. The idea was met with such sucess that by late 1924, plans were underway to form a company, and by early 1925, the first dining car made by the company was completed and from here things really started to roll along.
A "Who's Who of Silver Creek" notes that in 1925, fifty dining cars were built by W&D and the company employed 40 men. W&D helped make dining cars the talk of the town in Silver Creek by 1925. Later in 1925, they moved up the ladder and became, the "Pride of Silver Creek".
On Armistice Day, the doors to the factory were thrown open so that the public could inspect the factory. A former employee said in a Buffalo newspaper article that people traveling through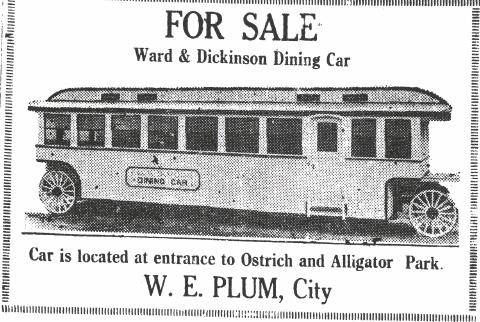 (Silver Creek Times, late 1925 ad)
town would see one of the dining cars in town and then would buy one and go into the dining car business back home for themselves. Silver Creek was obviously helped by being on the national road from New England to points west.
Unfortunately, for 1925, only a handful of diner's destinations are known. But what they did do, was make a name for themselves, streamline the building process, and set themselves up for another banner year of production in 1926. A year that would find them filling an order of 30 dining cars, set for Cleveland.

---
[PAGE 5] For more information, visit www.nydiners.com [PAGE 5]
N.Y. State Census 1925 - What does it have to offer?
Besides the newspapers and city directories, I have recently found another way to document "lunch car" owners. While make or location of the actual diner is not given, you still know that these people owned a "lunch car". In the town of Hanover, where Silver Creek is located, here is the list of lunch car owners: Michael & Charlie Muscato, Harry Hammond, Wallace Winfield and Albert Shultz. Myrtle O'Connor and Albert W. Baker were listed as a cook and an asst. cook respectively. Lee Dickinson was listed as a Real Estate Agent and Charles Ward as a Hotel proprieter. Only Earl Richardson was listed as a lunch car manufacturer. Putting this information to use. I have found that the Muscatos ran theri diner in Franklin, PA, Harry Hammond in Jamestown, NY and Wallace Winfield ran a tourist stop outside of Westfield. He owned two different diners at the same location(one replacing the other).
---------
How you can help: If you know about an old diner, especially pictures or first hand accounts, but even if you just remember a diner, please contact me. Also, let people who you know have information, know about this project and how they can help out.
-------
In the News (OLD)
The Jamestown, NY city dir. shows a third spelling variation of the word "diner"; it is "dynor". The other variation is used around eastern Ohio, and is "dinor".
A Conneaut newspaper reported a traveling lunch wagon coming to town in May of 1924. It was owned by a Mr. Neebuhr of Silver Creek, NY
When "The Eat Shoppe" arrived in Oneonta, NY, the newspaper incorrectly placed the Mulholland Co. in Lockport, instead of Dunkirk, NY.
In March of 1929, the Wellington, Oh. Enterprise says that a dining car is to be placed 2 and a half miles east of town at ex-Mayor Charles Ed Gott's service station.
The Blanding family was a big name in the operation of dining cars. Many Blandings and in-laws ran dining cars in the shadow of the Great Lakes.

---
[PAGE 6] Great Lakes Dining Car Wagoneer - 2002 [PAGE 6]
Ward & Dickinson - Silver Creek, NY 1924-1938. The most prolific builder of the region. They started in mid 1923 and became a company late in 1924. Motto was, "They're built to last."
Closson - Glens Falls, NY 1902-1912. Westfield, NY 1912-1917? The first known builder of the region.
Rich Dining Car Company - Silver Creek, NY 1921-1926. Dayton, Oh 1926-1929. Earl Richardson came from Westfield, NY in 1909 and ran a lunch wagon until he started building them as a company. Supposedly, his original lunch wagon was self built.
Liberty Dining Car Co. - Clarence, NY 1927-? Owned by C.A. Ward previous of W&D
Sorge - Silver Creek, NY 1940's
Silver Creek Dining Car Co. - Silver Creek, NY 1923-? First ran by a Dr. Fitzpatrick, later by a Dr. J. J. Sharp who might or might not have went by the Silver Creek Dining Car Co. name.
Orleans - Albion, NY 1940's Built 3 diners, one being the Highland Park in Rochester, NY.
Rochester Grills - Rochester, NY 1936-?
Mulholland - Dunkirk, NY 1920's?
Bixler - Fremont & Norwalk, Oh Late 1920's The first company to build diners that were assembled similar to making a loaf of bread, slice by slice.
Galion Dining Car Co. - Silver Creek, NY? 1920s?
Guy E. Russell - Ripley, NY late 1920's
Peter Schneider - Gowanda or Silver Creek, NY ? Only one blurb in the newspaper mentions him building a dining car in 1922
National Dining Car Co. - Silver Creek, NY 1920s
Dag-wood Diner - Toledo, Oh late 1940's Made kits called Dag-Wood Diners that made boxy rectangular diners.

---
[PAGE 7] For more information, visit www.nydiners.com [PAGE 7]

News from around the Country (NEW)

Gary Thomas has published a book, "Diners of the North Shore" (of Massachusetts). Though there were no Ward & Dickinson pictures, there were two in the area at one time.
Steve's Diner, the Ward & Dickinson Museum Diner in Silver Creek, NY, was mentioned in Wil Anderson's book, "Lost Diners"
Dottie's Diner has opened up in Cleveland Heights, Oh. Check out www.oh-diners.com for more info.
The Williams Co. (Ohio) Historical Society published an article about the dining car of Bryan. Mentioned were the owners, includeing Clem Yonk of Silver Creek, NY who brought the diner to Bryan. One owner swears the diner was a "Ward dining car", but its make is still under question.
The old diner of Ashland, Oh, now being used as a motorcycle store, was made by the Brill Co. who had a diner mfg. plant in Cleveland.
During a recent visit to Fremont, Oh, I visited Whitey's Diner. Originally called Milt's Dining Car, this is probably an authentic dining car.
Daniel Zilka, of the American Diner Museum has acquired two pictures of unique diners. One is called Taylor Lunch and was probably in East Aurora, NY. We now believe this to have been built by Dr. Sharp. The other, Larry's Lunch leaves no tell tale signs of location.
In Portsmouth, NH there is a mini diner still in business. The previous lunch wagon was a Closson.
EBAY Information
Recent matchbooks and postcards on EBAY have come up with this information. Matchbooks: A diner in Sussex, NJ, Bradley's Delux Diner of Syracuse, NY, both W&D's. Postcards: Kole's Diner in Lawton, MI, a W&D and Bailey's Coffee Shop, on US 20 near Fayette, Oh., unknown make.

---
Great Lakes Dining Car Wagoneer - 2002/3